Blog Magic
By
Start writing and sharing amazing blog content right away!!!
Rating:
Know more details about this template's features? Click here
🔥 Mid Year Mega Sale 2022
Template Description
Have you been struggling to find a way to keep your blog posts and Pinterest pins fresh and interesting?
We know how frustrating it is when you can't seem to come up with any new content ideas.
That's why we created The "Blog Magic" Blogging and Pinterest Template.
It's a premium Notion template that helps bloggers and writers plan, schedule and create their blog and pinterests posts in record time.
It also includes high-converting blog post ideas and done-for-you Canva Pinterest templates to help you generate more content without feeling stressed or disorganized.
You'll have the freedom to create your own unique content much faster with these templates!
In total, the template includes:
An Easy "Brain Dump" Area
A Spot to Plan Your Blog Posts
An All-in-One Space to Plan and Record Your Blog Collaborations and Guest Posts
Affiliate Manager - Plan and Track New Affiliate Programs and Products to Promote on Your Blog
Blog Post Calendar - Plan Your Blog Posts Out
Done-For-You Blog Post
Done-For-You Pinterest Titles
Done-For-You Blog Post Framework With Examples
Bonus: Done-For-You Pinterest Descriptions
General Headline Formula Swipe Files
The Ultimate Design and Copywriting Toolkit - Over 40+ Tools to Master the Design and Copy For Posts, Blog Pages, Landing Pages and More!
Canva Pinterest Templates - Over 40+ Done-For-You Pinterest Templates Crafted in Canva

Brain Dump Section

Planning your Blog Posts
Guest Post Manager

Affiliate Marketing

Monthly view to plan out your Monthly Tasks and Goals

Blogging Tools with inbuilt websites to guide you towards your blog journey and then marketing it efficiently using Google Ads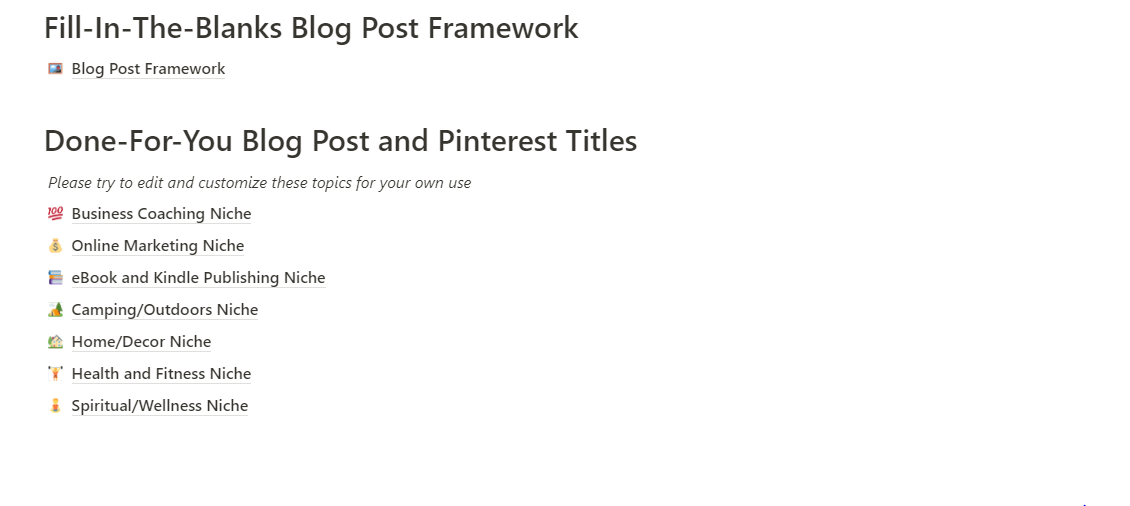 Ready to use Blog Posts for when you hit that writer's block

Make the perfect headline/titles with this Toolkit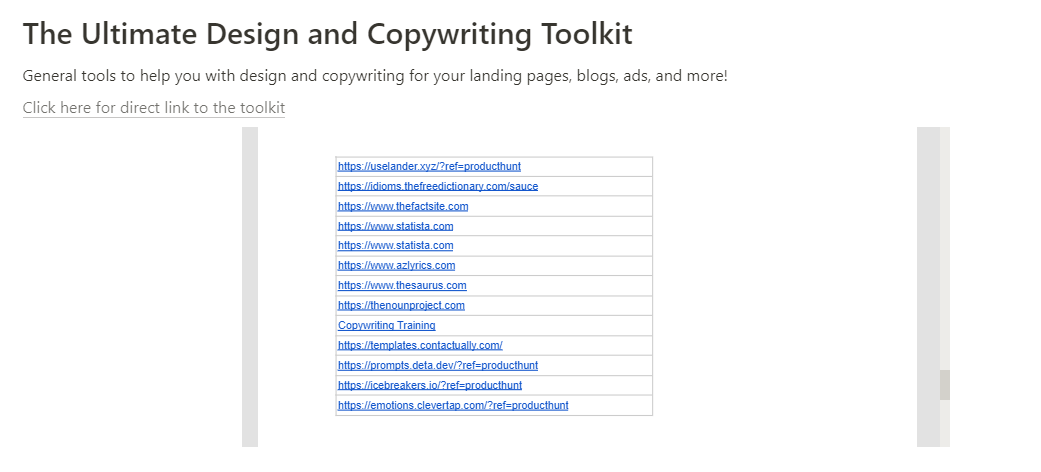 The Ultimate Design and Copywriting tool

Canva inspiration from Pinterest titles to make your banners POP!
It includes a total of over 150 high-converting blog post ideas, done for you Pinterest titles, descriptions and templates in Canva, spanning 7 different niches.
You can use these posts as inspiration to create content that will rank higher on Google.
Special Bonus: done-for-you blog post framework that will help you create your next blog post in minutes. It includes a framework for all of the major parts of your blog (including the oldest marketing framework in the world that is proven to convert and hook readers in) so you can just fill in the blanks with your content.
With Blog Magic, it's never been easier to find a great topic for your next blog post! And with our Pinterest templates, it's easy to share your latest blog on social media too and start generating traffic to your blog.
Our Canva, blog post, pins, and pin description templates are designed by professional writers and marketers so that all you need to do is select your niche and customize as you see fit!
The niches covered in the blog post ideas, pin titles, and pin descriptions are:
Business Coaching Niche
Online Marketing Niche
eBook and Kindle Publishing Niche
Camping/Outdoors Niche
Home/Decor Niche
Health and Fitness Niche
Spiritual/Wellness Niche
You deserve better than being stuck in writer's block. You deserve a template that will help you generate high-converting blog post ideas and matching Pins on demand - without feeling stressed or disorganized.
And now, with our Premium Notion Templates, there's no excuse not to get started right away!
Get Blog Magic today and start writing and sharing amazing content right away!
Be a Maker and start earning now
Have a knack for building useful or aesthetic Notion templates? Prototion is the perfect platform for generating revenue by selling templates. Learn more
Be a maker