Benchmarking Analysis Notion Template
By
A Notion tool to generate benchmarking analysis to compare & learn from others.
Rating:
Know more details about this template's features? Click here
🔥 Mid Year Mega Sale 2022
Template Description
Benchmarking Analysis is a Notion template database set that helps solopreneurs, entrepreneurs, StartUps, and SEMs to implement benchmarking analysis. This Notion template is a godsend for all those entrepreneurs who want to get ahead in their game without repeating the mistakes that their predecessors did.
Why Was This Template Created?
What cannot be measured cannot be improved. If you want to get better you need to track performance and this template helps you to achieve that aim.
As entrepreneurs and companies, we always seek to find areas for improvement, identify low-performance points, and learn from those that are doing the things right to grow our project. One of the most common practices in business to achieve all those objectives is to include Benchmarking.
This practice has helped many people gain an independent perspective about how well their performance has been compared to other projects and analyze how well they did among different months.
This Notion Template Includes: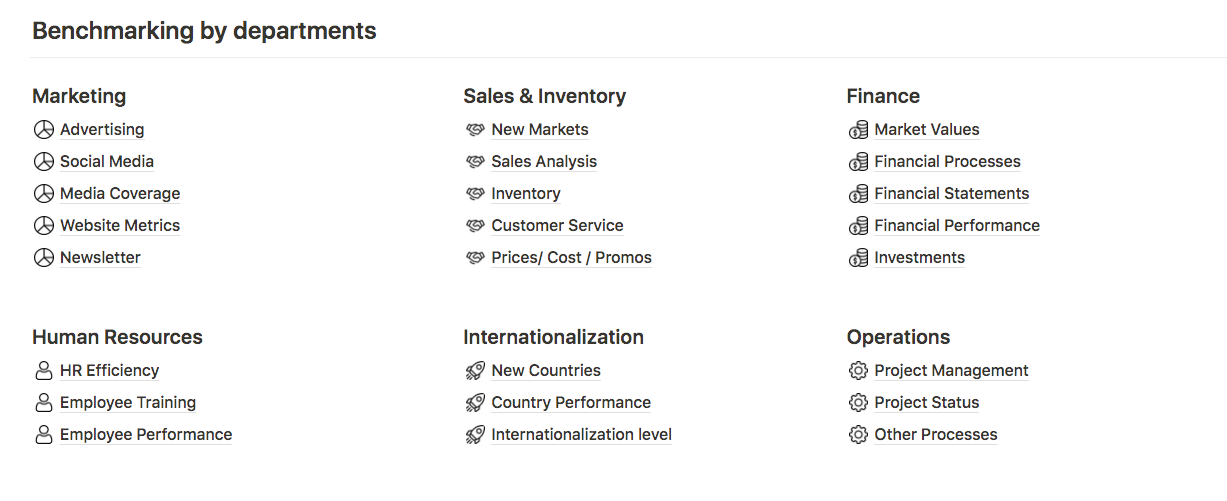 27 Benchmarking Departments
27 Notion Databases that contain +600 metrics and indicators to benchmark your project.
Benchmarking databases include templates for every metric & indicator with a short description and the general formula to calculate it.
Databases included: Advertising, Social Media, Media Coverage, Website Metrics, Newsletter, New Markets, Sales Analysis, Inventory, Customer Service, Prices/Costs/Promos, Market Values, Financial Processes, Financial Statemetns, Financial Performance, Investments, HR Efficiency, Employee training, Employee performance, NEw Countries, Country Performance, Internationalization, Project Management, Project Status, Other Processes. Benchmarking Bonus included: SaaS, Product Launching, Nonprofit initiatives.
An introductory guide to what's benchmarking and how to create effective benchmarking.
Benchmarking Examples and Use cases.
Onboarding guide to using the template
A Creation Hub that works as a space to create your own benchmarking combining metrics from all the databases
You'll Benefit From This Product If:
You want to identify improvement areas in your company/project
You want to learn from the competition
You want to monitor the performance of your company/project
You want to identify productivity points
You are an entrepreneur, entrepreneur, or StartUp
You are an SME or you work for an SME in the finance, marketing, sales, operations, human resources, or internationalization department.
Disclaimer: This template includes more than 600 indicators and metrics for you to benchmark your company, however, each project is a world, and according to the nature of your practices, you may need to include your own metrics to benefit from this process.
Be a Maker and start earning now
Have a knack for building useful or aesthetic Notion templates? Prototion is the perfect platform for generating revenue by selling templates. Learn more
Be a maker