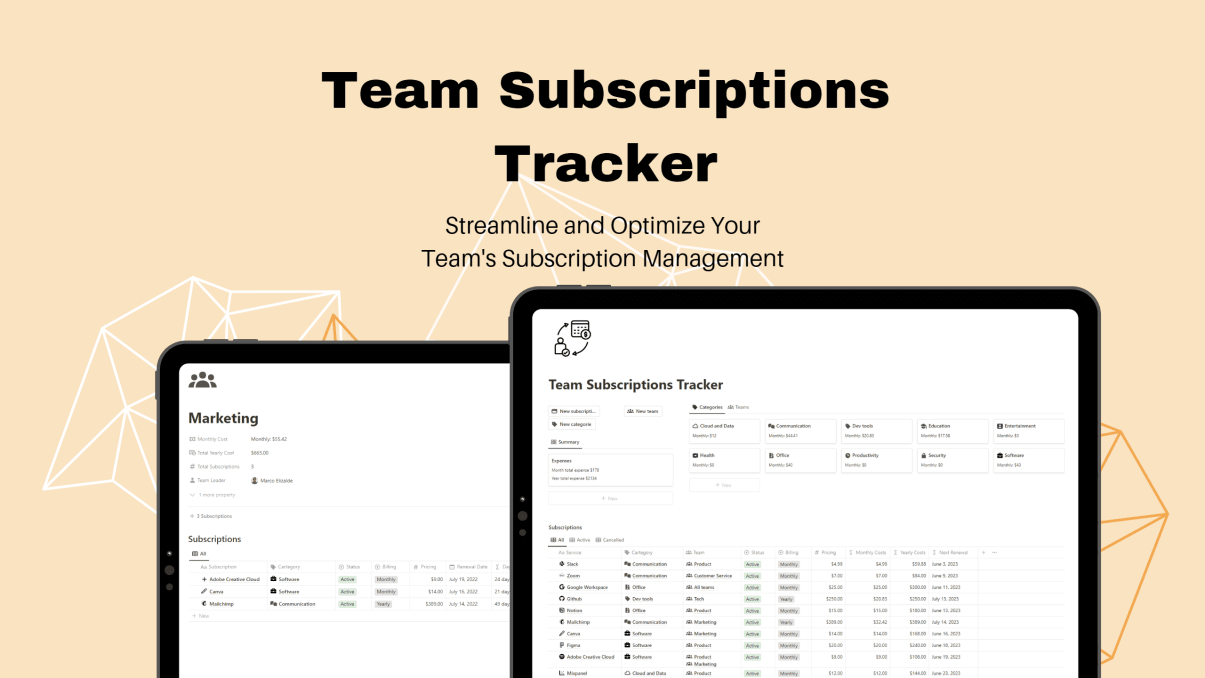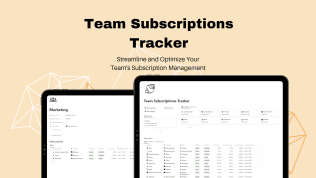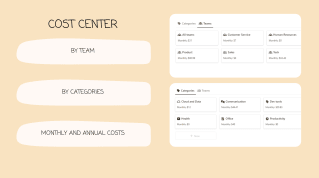 Team Subscriptions Tracker
By
Team Subscriptions Tracker, a meticulously designed tool for startups and work teams, is your ultimate solution.
Rating:
Know more details about this template's features? Click here
Notion
Combo Marvels
Twice the Productivity Power With Template Bundles
Template Description
Team Subscriptions Tracker - Streamline and Optimize Your Team's Subscription Management
Are you seeking a comprehensive, user-friendly tool to effectively manage your team's subscriptions? Team Subscriptions Tracker, a meticulously designed tool for startups and work teams, is your ultimate solution. 💯
Our user-friendly template gives you complete control over all your subscriptions, from software services to professional memberships.
Specifically designed for startups and teams, the Team Subscriptions Tracker simplifies subscription management, saving you time and money.
Why your team needs the Team Subscriptions Tracker:
Efficiency and Time-Saving: Tracking multiple subscriptions manually can be time-consuming and prone to errors. This tool automates tracking, saving valuable time that can be used elsewhere in your business.
Cost Management: This tool helps you to visualize and control your expenses by breaking down costs by team and category, enabling more intelligent budgeting and potential cost savings.
Transparency and Oversight: By providing a clear view of all your subscriptions, including their status and the responsible team member, accountability and transparency within your team are improved.
Payment Management: It ensures you never miss a payment or pay for a subscription you no longer need. It tracks payment dates and which card is used for each subscription.
Versatility: It's suited for all subscriptions, making it an incredibly versatile tool for any business or team.
Key Features:
Cost Centers: Organize your expenses by team and categories, discovering savings and efficiency opportunities.
Subscription Record: Keep a detailed record of all your subscriptions, including monthly and annual costs, the number of users, and subscription status.
Credit Card Management: Always know which card pays for each subscription and when the next payment date is due.
Team Overview: Understand how many subscriptions each team has, their annual and monthly costs, the team leader, and more.
Category Control: Keep track of how many subscriptions each category holds and how much they cost monthly and yearly.
Subscription management doesn't have to be a headache. With Team Subscriptions Tracker, you gain clarity, control, and confidence in handling your subscriptions.
Start your journey towards optimized subscription management today. 🌟
Notion

Workspaces 🪴

A collection of best templates by best makers, Coming Up next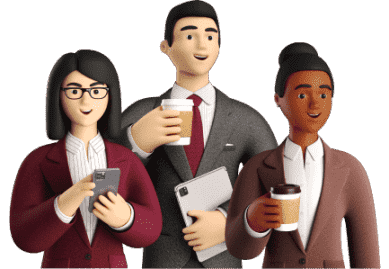 Be a Maker and start earning now
Have a knack for building useful or aesthetic Notion templates? Prototion is the perfect platform for generating revenue by selling templates. Learn more
Be a maker