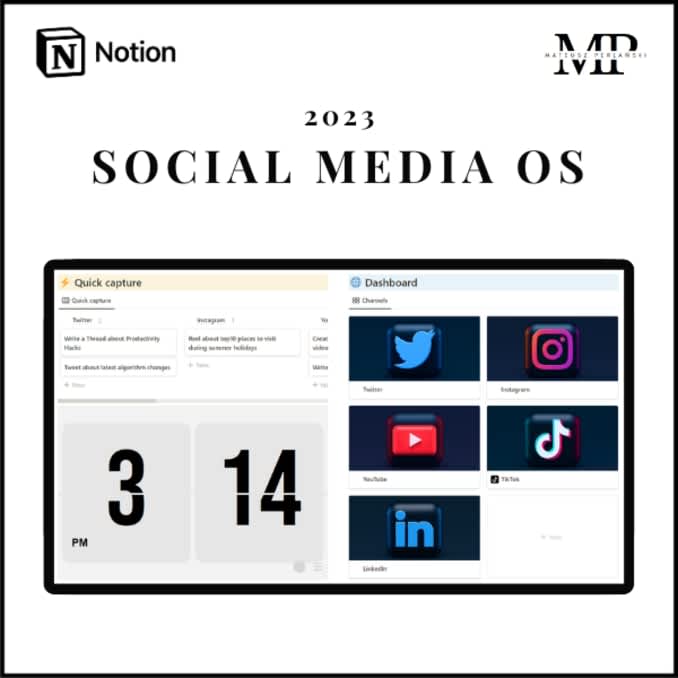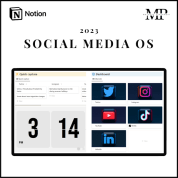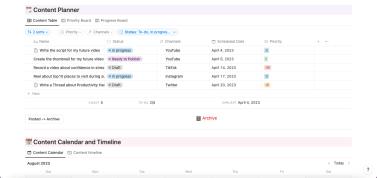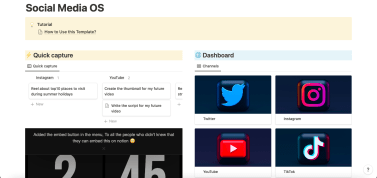 Social Media OS
By
Manage your entire Social Media in Notion with this all-in-one toolkit for organizing ideas, deadlines and posts.
Rating:
Know more details about this template's features? Click here
🎁 Save more with Template Bundles
Template Description
Why did I create this template?
To help Creators organize and manage their content across all Social Media Platforms.
Understanding of the challenges Creators face in navigating the labyrinth of content across diverse Social Media Platforms. Aiming to alleviate this struggle and elevate the content management experience, this template emerged as a guiding light for Creators seeking efficient organization.
It's more than a digital tool; it's a guiding star in the expansive galaxy of social media content management. As it finds its way into the hands of Creators, it becomes a beacon, illuminating their path toward organized, efficient, and impactful content creation. 🌟📊🚀
What's included in the template?
Quick Capture Section
Channels Dashboard
Content Planner
Priority Board
Progress Board
Content Calendar and Timeline
All-in-one Dashboard for Effective Planning
Included Tutorial to get you started
Lifetime access
Many convenient Integrations between Pages
How to use the template?
Duplicate it in your own Notion workspace
Now you can easily use the template
What are the benefits of the template?
Effortless Content Organization: Dive into an organized content universe. This template empowers you to categorize, tag, and structure your content, ensuring every piece finds its rightful place within the digital landscape.
Unified Content Hub: Bid adieu to scattered platforms. This template creates a centralized hub where all your content – from blog posts to social media updates – converges, simplifying your content management experience.
Strategic Planning: Embrace strategic content planning. The template provides a canvas to outline your content strategy, from brainstorming to publication schedules, fostering a systematic approach.
Time Optimization: Witness time transform into your ally. By streamlining content management, this template frees you from the clutches of repetitive tasks, allowing you to focus on creation and engagement.
Enhanced Collaboration: Collaboration becomes seamless. Invite team members, collaborators, and contributors to the template, enabling unified efforts in content creation, review, and publication.
Analytics Integration: Infuse data-driven insights into your content strategy. With this template, you can seamlessly integrate analytics tools, making informed decisions based on engagement metrics.