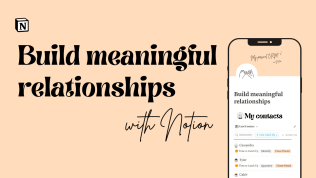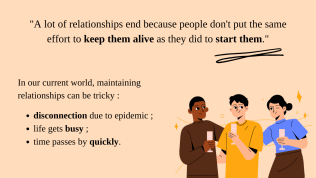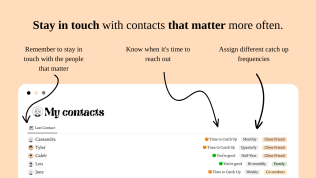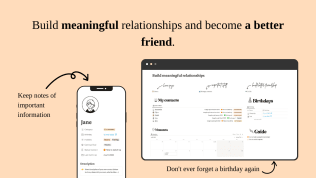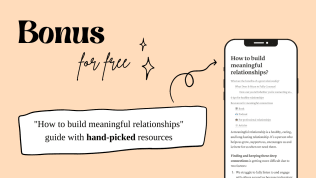 Build meaningful relationships
By
Stay in touch with contacts that matter more often with this personal CRM. Don't ever forget a birthday again.
Rating:
Know more details about this template's features? Click here
Notion
Combo Marvels
Twice the Productivity Power With Template Bundles
Template Description
Why did I create this template?
After lockdown, I realized that I've lost a lot of my closest friends. Month after month I was talking a lot less to them and I realized it was mainly my fault.

I began to look out for a solution and stumbled across a lot of Personal CRM but they didn't have all the features that I wanted so I created my own.
What's inside the template?
This template is a fully customizable and aesthetic Notion Dahsboard.
You'll find :
A database for all contacts that matter ;
Catch up frequencies to automatically calculate when it's time to reach out ;
Birthday reminders in order to never forget a birthday again ;
Contact template to keep notes of important information ;
Moments database to store past memories and plan the future ones ;
Guide to help you build meaningful relationships with close friends ;
Hand-picked resources on how to build meaningful relationships ;
A complete tutorial on how to use the template.
How to use the template?
In the template, you'll find a How-to guide :
Contact creation ;
Contact follow-up informations ;
Contact customization ;
Birthday reminder ;
Moment creation ;
Moment reminder.
What are the benefits of the template?
"A lot of relationships end because people don't put the same effort to keep them alive as they did to start them."
In our current world, maintaining relationships can be tricky :
disconnection due to epidemic ;
life gets busy ;
time passes by quickly.
With this template, you can stay in touch with contacts that matter more often.
Remember to stay in touch with the people that matter ;
Know when it's time to reach out

Assign different catch-up frequencies

Build meaningful relationships and become better friends.
Keep notes of important information
Don't ever forget a birthday again

Notion

Workspaces 🪴

A collection of best templates by best makers, Coming Up next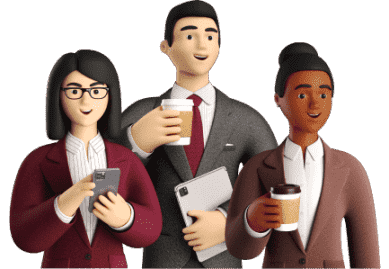 Be a Maker and start earning now
Have a knack for building useful or aesthetic Notion templates? Prototion is the perfect platform for generating revenue by selling templates. Learn more
Be a maker