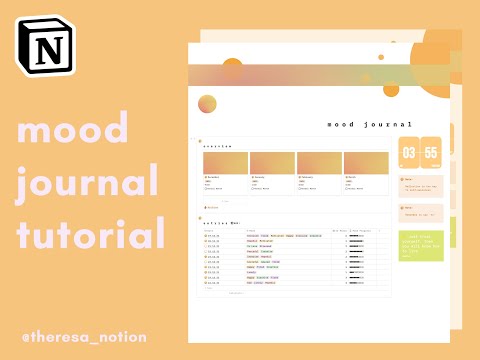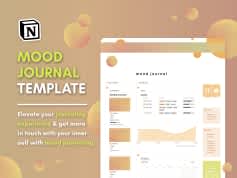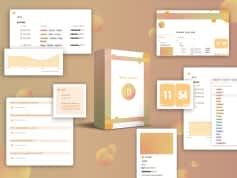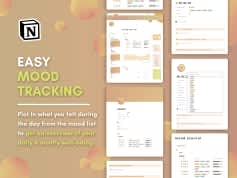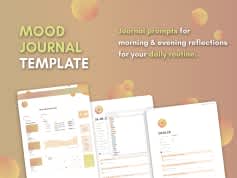 Mood Journal
By
Elevate your journaling experience & get more in touch with your inner self with mood journaling.
Rating:
Know more details about this template's features? Click here
🎁 Save more with Template Bundles
Template Description
You're busy. You've got a ton of work to do. You don't have time to track your emotions, or even think about them.
Trust me—I get it. Keeping track of our regular day-to-day life might already be a struggle, especially during this period of time. Checking in with our emotions and inner world is something we tend to forget. Nonetheless, the importance of being aware of how you feel and allowing yourself to feel all your emotion is more relevant than ever.
This mood journal helps you track your emotions based on your journal entries, and generate monthly emotional overviews so you can track your mood on a monthly basis. Become more self-aware by reflecting on how you are feeling and what you have been up to. Sometimes there might be a link between the two—or maybe not! But either way, this template will help you get clear on right now by providing:
Journal prompts: Pre-made templates for morning/evening journaling
Mood tracking (Daily and monthly views)
Linked databases for easy use and navigation
Multiple views such as: calendar, special occasions and recently added
DARK & LIGHT mode
What Notioners are feeling about this template:
"You have no idea how much the mood journal has been helping! I started journaling with the pandemic but nowadays with my busy study schedule it's harder to make myself sit down so your template makes it easier because I just have to pick up the phone and I've noticed my moods getting better and better after getting it so really, thank you so much, I love it." - Lara (IG: @larauerc)