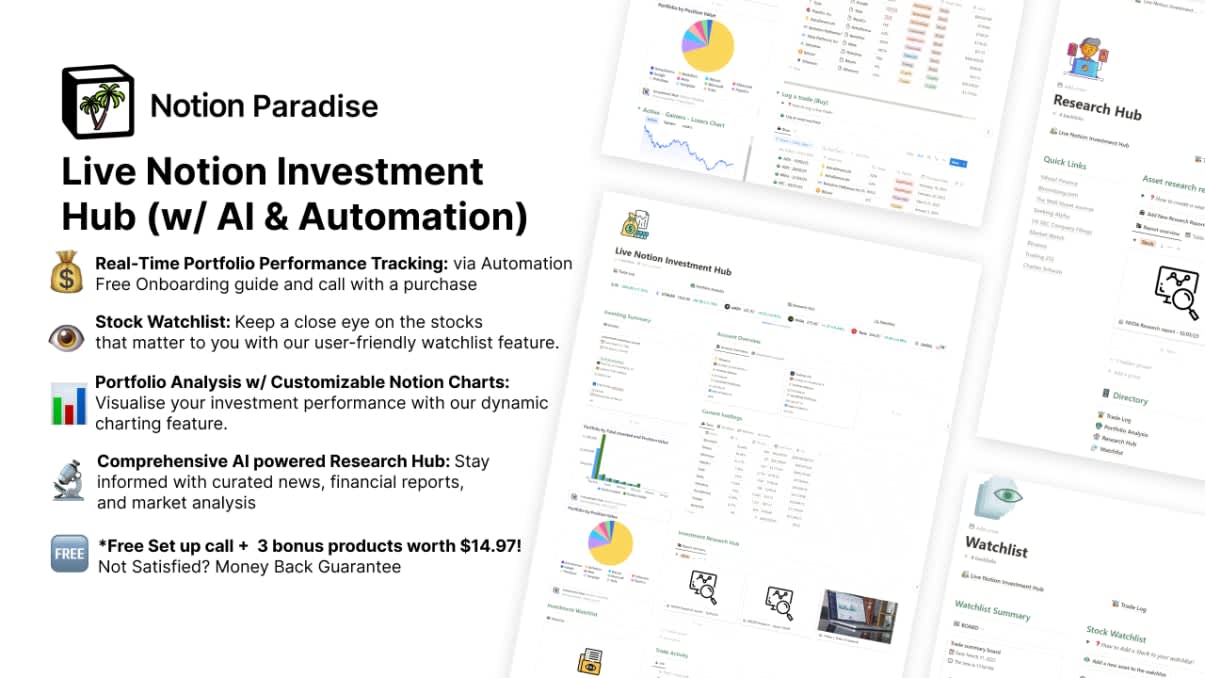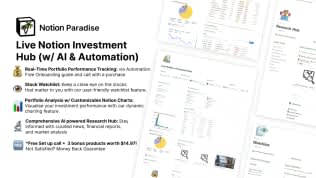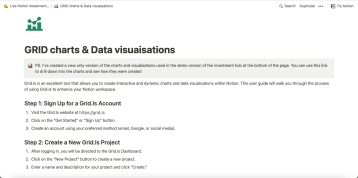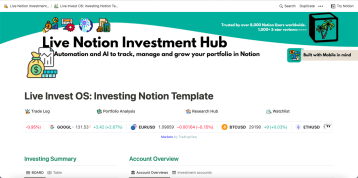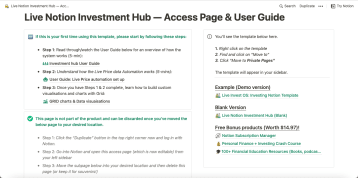 Live Notion Investment Hub
By
Introducing The Notion Investment Hub: Your Ultimate Personalized Investment Portfolio Manager
Rating:
Know more details about this template's features? Click here
🎁 Save more with Template Bundles
Template Description
Why did I create this template?
Welcome to The Notion Investment Hub, a powerful and customizable Notion template that empowers you to efficiently track, analyze, and manage your investment portfolio like never before. Say goodbye to clunky spreadsheets and disorganized information – we're here to revolutionize how you approach your investments.
What's inside the template?
Key Features:
Real-Time Portfolio Performance Tracking: Stay on top of your investment game with live price updates and automation. The Notion Investment Hub syncs your portfolio with the latest market data, ensuring you always have the most up-to-date information at your fingertips.
Stock Watchlist: Keep a close eye on the stocks that matter to you with our user-friendly watchlist feature. Track your favourite stocks, monitor price changes, and identify new investment opportunities with ease.
Comprehensive Research Hub: Powered by Notion AI, our research hub provides you with unparalleled access to valuable insights and knowledge. Stay informed with curated news, financial reports, and market analysis that's tailored to your specific interests and goals.
Portfolio Analysis with Customizable Notion Charts: Visualize your investment performance and gain deeper insights with our dynamic charting feature. Customize your charts to display the data that matters most to you, and identify trends, patterns, and opportunities with ease.
Customizable + Interactive Widgets and Charts: Organize your investment information the way you want it. With our flexible template, you can easily customize your dashboard to display the metrics and data that are most important to you.
Cross-Platform Accessibility: Access your investment information from any device, anywhere. The Notion Investment Hub is fully responsive and mobile-friendly, ensuring you can stay connected to your portfolio no matter where you are.
Plus 3 bonus products worth $14.97!
The Notion Subscription Manager (Worth $5) - easily keep track of all your subscriptions, including the subscription type, amount, and renewal date. You can also set reminders for upcoming renewals, so you never miss a payment again. (230+ Sales & 25+ 5-Star Reviews.
The Financial Freedom Media Vault (Worth $5)- 100+ of the internet's best resources to help you become financially free in the next 6 months. (100+ Sales)
Personal Finance Crash Course/Roadmap (Worth $4.97) - Save 100+ hours of researching. I curated this roadmap covering must-know personal finance concepts from beginner to advanced, along with the best resources to learn them. Over 50+ Videos and breakdowns of key concepts and tips (100+ Sales)
How to use the template?
This template comes with a comprehensive and easy-to-follow onboarding guide and a FREE set up call that you can schedule at a time that suits you.
What are the benefits of the template?
We believe in empowering investors with the tools and resources they need to make informed decisions and achieve their financial goals. Our template combines the power of Notion's organizational capabilities with cutting-edge AI technology, creating an all-in-one investment management solution that's both powerful and easy to use.
Join satisfied investors who have streamlined their investment process with The Notion Investment Hub. Get started today and experience the future of personal portfolio management.
Unsure? Money Back Guarantee
I don't know how to set it up -> 15-minute onboarding guide + 20 min video call where I'll personally answer ALL of your questions and needs.
What if I don't like it? -> 100% money-back guarantee.