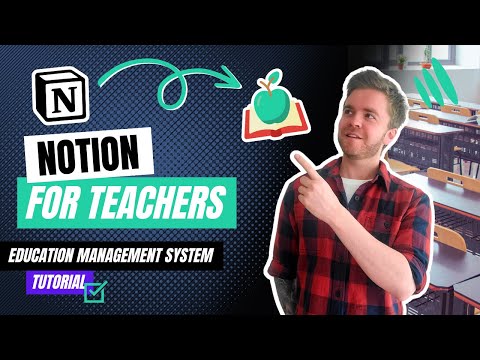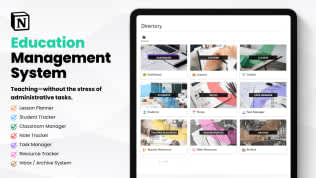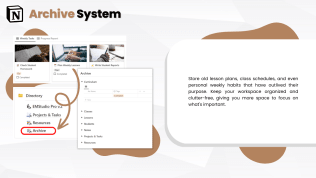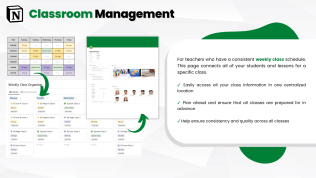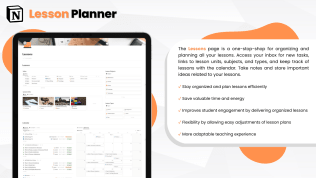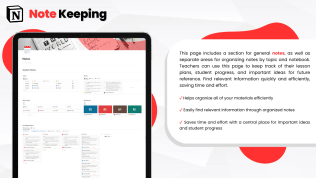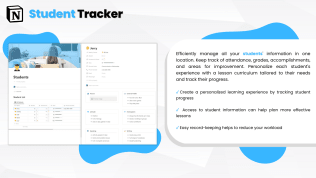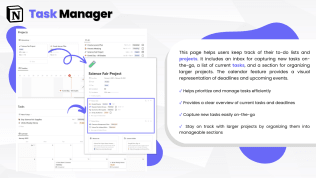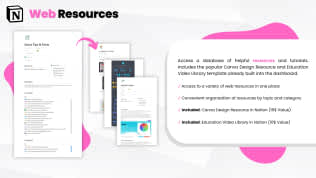 Education Management System
By
Streamline lesson planning, track student progress and keep your tasks organized.
Rating:
Know more details about this template's features? Click here
🎁 Save more with Template Bundles
Template Description
About the Template
Whether you are a private tutor, academy teacher in a foreign country, independent / distancing learning educator, or a classroom teacher, EMStudio helps you keep track of your yearly curriculum, lesson planning, organizing your classes, managing students, keeping track of day-to-day tasks, and a place to store all of your important notes.
How does the template work?
The Dashboard is the main control panel where all the magic happens. All of your appointments, tasks, classes, notes, resources, etc. are nicely organized in one place so you can easily locate all the information you need.
The Dashboard operates with 8 main databases:
📅 Lessons - The Lessons page is a one-stop-shop for organizing and planning all your lessons. Access your inbox for new tasks, links to lesson units, subjects, and types, and keep track of lessons with the calendar. Take notes and store important ideas related to your lessons.
📔 Classes - For teachers who have a consistent weekly class schedule. This page connects all of your students and lessons for a specific class.
👱 Students - Efficiently manage all your students' information in one location. Keep track of attendance, grades, accomplishments, and areas for improvement. Personalize each student's experience with a lesson curriculum tailored to their needs and track their progress.
📄 Notes - This page includes a section for general notes, as well as separate areas for organizing notes by topic and notebook. Teachers can use this page to keep track of their lesson plans, student progress, and important ideas for future reference. Find relevant information quickly and efficiently, saving time and effort.
🔨 Task Manager - This page helps users keep track of their to-do lists and projects. It includes an inbox for capturing new tasks on-the-go, a list of current tasks, and a section for organizing larger projects. The calendar feature provides a visual representation of deadlines and upcoming events.
📋 Teacher Resources - This page is intended to be a collection of any additional resources a teacher might need. It includes links to folders that may be of interest to educators, as well as a list of all available resources.
📚 Web Resources - Found an interesting YouTube video? An educational games website you like to use? Any web resource you deem important or valuable can be stored here.
📂 Archive - Store old lesson plans, class schedules, and even personal weekly habits that have outlived their purpose. Keep your workspace organized and clutter-free, giving you more space to focus on what's important.
Special Features
EMStudio utilizes the P.A.R.A. Method of storing digital information which organizes everything into either Projects, Areas (main classroom areas), Resources, and Archive.
Page Templates for every section contained within the Dashboard (classes, students, etc.)
Multiple database views to customize your Dashboard and tailor tasks to your preference.
Custom Class Covers, including the canva template, for you to further customize your Dashboard.
Extensive YouTube video tutorials showing you exactly how to get the best experience out of EMStudio (currently pending).
Who is this template for?
Online / Distance Learning Educator
Academy Teacher in a foreign country
Classroom Teacher
Independent Private Tutor
Any type of Educator / Instructor looking to improve their teaching experience