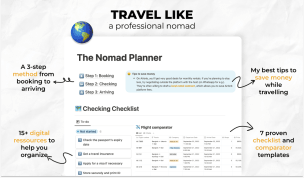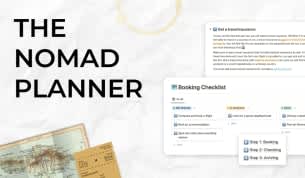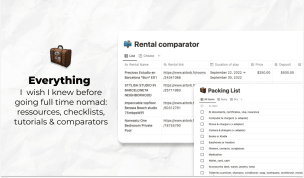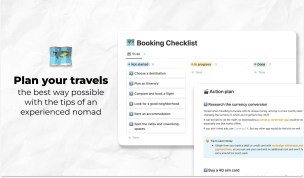 The Nomad Planner
By
The all-in-one Notion planner to help you travel like a professional nomad.
Rating:
Know more details about this template's features? Click here
🎁 Save more with Template Bundles
Template Description
Why did I create this template?
Whether you are a future digital nomad or an experienced one that wants to improve their travel planning,
you are in the RIGHT PLACE 📍
The Nomad Planner is not just a traditional travel planner, it's everything I wish I knew before going full time nomad: tips, ressources, checklists, tutorials & comparators.
With it, you'll get to plan your travels and digital nomad experiences the best way possible!
What's inside the template?
✅ A 3-step method from booking to arriving
✅ My best tips to save money while travelling
✅ 7 proven checklist and comparator templates
✅ 15+ digital resources to help you organize
How to use the template?
Create a FREE account in Notion if you don't already have one.
Click "Duplicate" on the top right corner to duplicate the template to your workspace.
Follow the 3-step method to plan the best travel possible!
What customers say about it ❤️
Good job! I have left a 5 stars! Like your travel tips & comparators! @heymirako
Great work, I really liked some neat features you put in the planner especially the neighborhood mood tracker is a gem of a find. I loved the format of going through each phase of the travel. I will definitely put it to use whenever I travel next. @saigalsn
Been a digital nomad since 2016-17 and the checklists are def helpful! @pravin_33
Organized, great user experience, easy to navigate and follow. Step by step is very clear. Nice work! @salielim