The Chord Library
By
A digital collection of 59 guitar chords with 10 views including a progress tracker and practice calendar.
Rating:
Know more details about this template's features? Click here
🔥 Black Friday sale is live

🎁 Save more with Template Bundles
Template Description
Why did I create this template?
I'm a guitarist myself and having something like this clean, minimal guide when I was first learning would have definitely accelerated my progress. With this template, I want to help budding guitarists learn and track their progress in learning chords.
What's inside the template?
A database of 59 guitar chords including major, minor, dominant 7th, minor 7th and suspended chords. All of which are used in a huge variety of songs when you are first learning how to play the guitar.
There are also 10 different views of these chords, helping you to easily see what you want to learn and where you at with learning at any given point.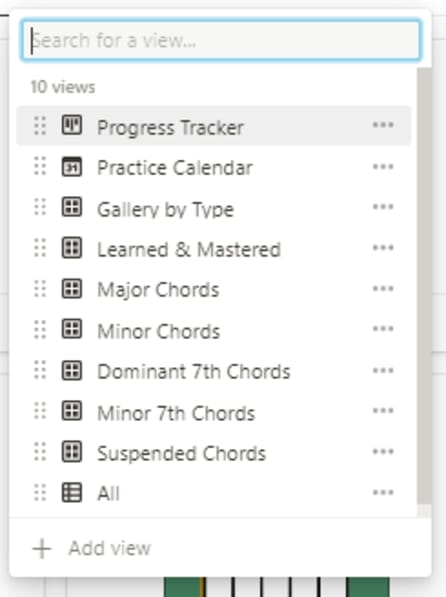 The 10 views of The Chord Library
How to use the template?
Simply duplicate to your workspace and navigate through the views, changing the 'Status' property and 'Last Practiced' property to track your learning.