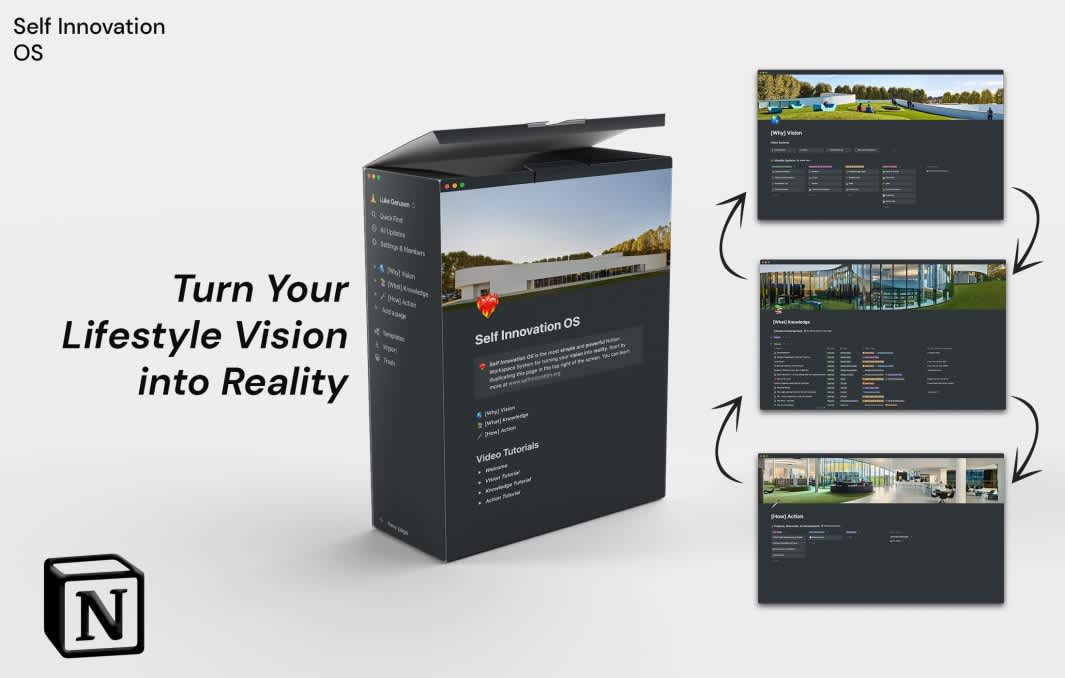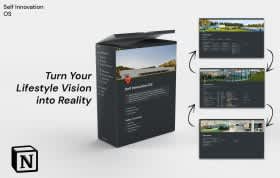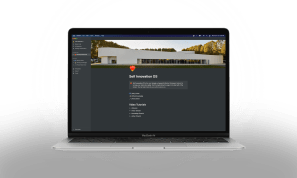 Self Innovation OS
By
Self Innovation OS is the most simple and powerful Notion System for turning your lifestyle vision into reality
Rating:
Know more details about this template's features? Click here
🎁 Save more with Template Bundles
Template Description
Self Innovation OS is the most simple and powerful Notion Workspace System for turning your lifestyle vision into reality. Self Innovation OS helps you evolve from a consumer into a contributor by changing your lifestyle approach to systems thinking

The package includes of three Notion templates, video tutorials, and a coaching call.
Visit The Self Innovation OS Homepage for more info! https://www.selfinnovation.org/menu/notion
"Give a man to fish, and he will eat for a day, teach a man to fish and he will eat for a lifetime"
What's Inside
Vision Discover your life purpose and value alignmentDevelop your long-term visionBuild your 1-year roadmapWeekly, Monthly, Quarterly, Yearly Review checkpoints create systems and objectives for your lifestyle categoriesBonus lifestyle Templates
Knowledge Systematically captures and prioritizes knowledge organizes information on a hierarchy of quality, source, and topic. Turn your notes into wisdom and actions
Action Focus on actions that are important instead of urgentPrioritize actions using the 80/20 rule create rapid action plans for your projects, outcomes, and commitments
Here are the benefits:
Transform your Life
Create the life of your dreams and invest in your future with the Vision Module. The Self Innovation Operating system allows you to thoroughly develop your life purpose and vision, then systematically make it tangible through lifestyle systems. This gives you massive alignment, organization, power, and time to live the life you create.
Upgrade Your Mind
Mastering Notion teaches your systems thinking. Notion essentially gives you another brain, and teaches you to become intentional about your thought process and thoroughly structure the back-end of your mental interface. Additionally, the Self Innovation Operating system will increase your mental bandwidth by knowing that all knowledge is strategically saved.
Maximize Creative Output
When you have a system that grants you mastery over your digital life and productivity, you are free to focus on your craft. Skip hundred of hours of experimentation knowing that you have a simple process to maximize your creative output.
Conquer Technology
Technology is destroying the mental health of our society. Adopting the Self Innovation OS Notion Lifestyle will give you the security to manage your digital life with confidence. You can rest assured that you have mastered the matrix. The Self Innovation system focuses on simplicity to increase your quality of life so that you can be on technology less. When it comes to productivity, less is more. Additionally, the Self Innovation Operating System will teach you to be more selective about your behavior on other online platforms.‍