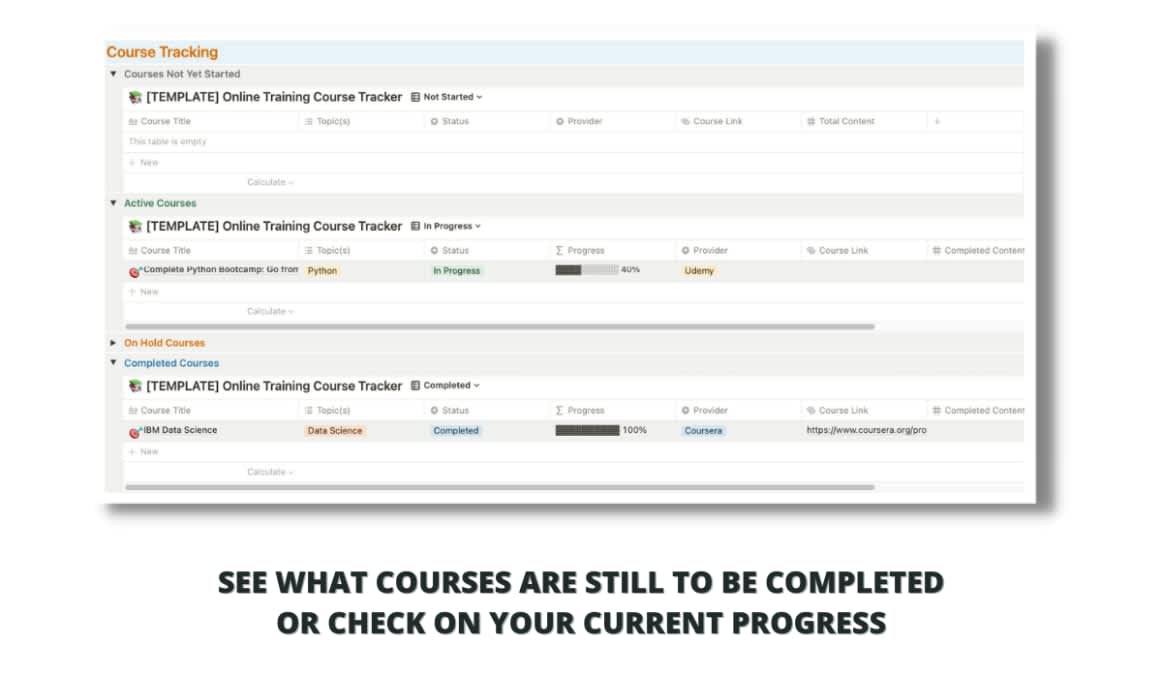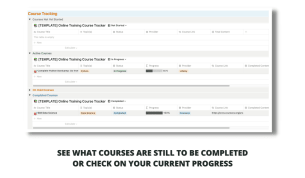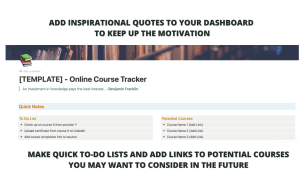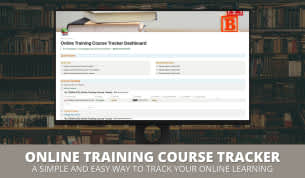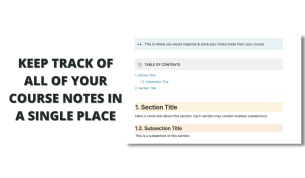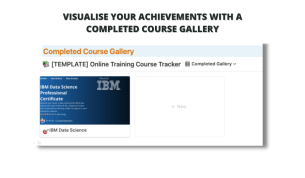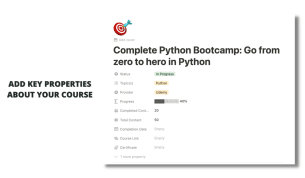 Online Training Course Tracker Dashboard
By
Keep track of your online training courses in one place using this dashboard inside of notion.
Rating:
Know more details about this template's features? Click here
🎁 Save more with Template Bundles
Template Description
Online Training Course Tracker Dashboard
The Online Training Course Tracker Dashboard was created to organize and manage your online training courses. As Online Training and MOOCS have become very popular over the past few years there are many course providers available. Each one has it's own way of tracking your progression through the course. This dashboard allows you to bring all of that information together in one place.
What Is Contained Within This Dashboard?
The dashboard contains multiple expanding sections that allow you to see what courses you have not yet started, as well as ones that are under way or have been completed.
Within each course you can store your notes and update your progress as you make your way through the training course.
Key Benefits
gain an overview of your online courses (which can be expanded to in person training courses as well)
add the courses that you may want to undertake in the future
keep track of courses that you are currently undertaking
keep your course notes in one convenient place
visualise courses that you have completed
Once you have completed a course, you can upload the certificate so you don't lose it and you also can showcase it to potential employers.
Using This Template
Within the template there are a number of helpful hints about how to get the most out of the template.
Updating Course Progress:
The tracking database contains 2 columns: Total Content and Completed Content. The numbers are used to calculate your progress.
The values entered here can be the number of training/course hours or the number of modules/sections within the course.
As you progress through the course, you update the completed content number
Completed Course Gallery:
Within each course, you can attach a cover image and this will be displayed in the gallery. This image can either be a picture of the course to allow you to easily identify it or it can be an image of a certificate if you wish to show it to potential employers.