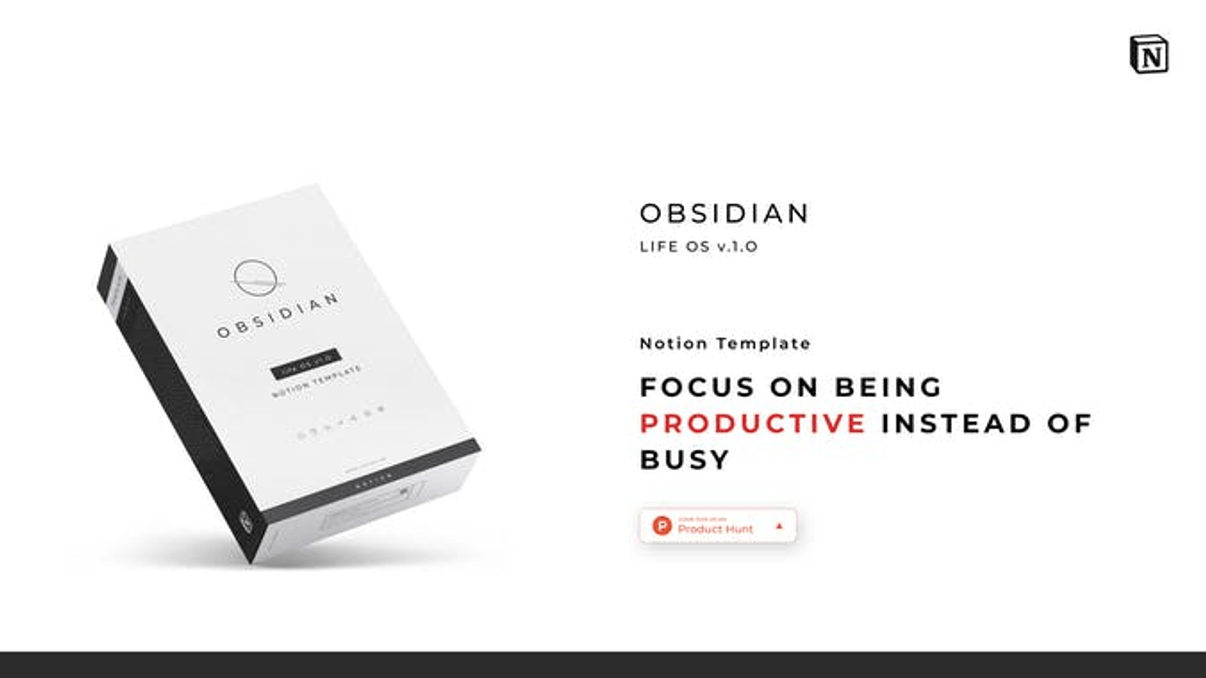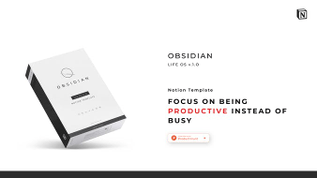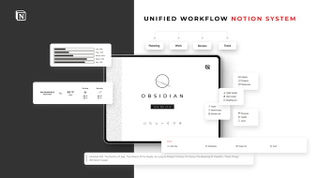 Obsidian Life OS
By
All-in-one Notion system with 30+ Notion Templates, 200+ Resources, 20 Notion Widgets, Free Icons & a Document Library.
Rating:
Know more details about this template's features? Click here
Notion
Combo Marvels
Twice the Productivity Power With Template Bundles
Template Description
Obsidian Life OS
A unified, all-in-one, personal workflow Notion System.
Why You Need Obsidian Life OS
Running a business, managing projects or keeping your personal life sorted - neither is easy.
Enter Obsidian.
It lets you eliminate noise and build a kind of second brain. Built using Notion, these types of systems tend to break easily and need a great deal of maintenance. But not Obsidian.
This system is built in such a manner that it takes minimal management efforts and is self-expandable, meaning that it doesn't break easily.
The Problem
Your life is packed with to-dos. It's easy to forget what really matters to you and your focus often shifts away from it.
The Solution
The right processes will always produce the right outcomes.
Implement flawless workflows with Obsidian's simple yet powerful system and manage your time according to what you really care about.
An Aesthetic Notion System, Packed With Features
Obsidian is everything you need to get your life on track. It lets you:
1) Understand your life and take tangible actions to improve it.
2) Organize and centralize your life to be more productive.
3) Develop continuous improvement processes.
The Importance of a Notion System
We try to view our life in fragments. Often, we end up at a stage where we're unable to see the big picture.
The battle is not lost. Yet.
You can train yourself to understand the unseen forces that connect everything. Then, you can apply those insights to build systems to live much better.
"You do not rise to the level of your goals. You fall to the level of your systems." - James Clear.
Obsidian Life OS - Philosophy
Life is a game of patterns. The more we observe and analyse them, the more deeply we understand how the world works around us. One of the key insights of the systems approach has been the realization that the network is a pattern that is common to all life. This Obsidian OS is conceptually designed based on patterns and how each relative component functions effectively to work as a second brain for an individual.
This system is organized into 5 Key Sections:
📋 Plan: An area dedicated to planning, goal discovery, and vision mapping.
💪 Work: An area focused on work-related components to manage assignments and projects.
🛠 Review: An area that comprises of tasks, which require constant information analysis and review.
📈 Track: An area focused on dynamic components of life which require constant tracking.
🌼 Extras: An area that contains additional sub-areas like Personal Space, Notion Dashboard, Shortcuts, and Databases.
Obsidian also includes:
30+ Notion Templates
200+ Resources
20 Notion Widgets (including setup documentation)
An Icon library (Minimalistic - Light and Dark)
A Document Library (Agreements, Proposals and Templates)
Notion Setup Guide (Sections in Templates)
Detailed Overview:
1. Plan Area
Goal (Goal setup and vision board)
Brain Dump (Idea capture, idea funnel, )
Bucket List (Bucket list keeper and management)
2. Work Area
Clients (Lead funnel, Client manager and client dashboard)
Projects (Project manager, Task manager, Project dashboard and project templates)
Resources (Documents, Meeting Notes, Document Templates and plan board)
3. Review Area
Finances (Invoice management, Investment board, Income and expense board.)
Health (Workout Plans, Body health tracker, Workout routines)
Learn (Fields, Course tracker and Learning Interest board)
4. Track Area
Habit tracker (Dynamic habit tracker)
Diet Tracker (Diet tracker, Recipe keeper)
Reading list (Books, article, Podcast and Movies Tracker)
5. Extras Area
Personal space (Profile- CV, Portfolio, Social media management)
Notebook (Rough, Notes and Journal - advance)
Shortcuts (Quick target, Time blocking and input system)
Database (All the databases will be stored here)
Does This Work On The Free Version Of Notion?
Yes. After the purchase, you only need to duplicate Obsidian to your Notion workspace. You don't need to be on Notion's Personal Pro plan to use it. However, this is a comprehensive Notion template, which includes templates for pages, databases, and views. If you're using a free account on Notion, you may hit their cap on the number of active blocks. A paid plan is recommended to get the most out of Obsidian.
Can I Duplicate This Database To Share With My Team/Friends?
This is a personal license for individual use, so not currently.
Try Out Obsidian Today!
Remember, your desires will not determine your life outcomes, your systems will 🖖
Notion

Workspaces 🪴

A collection of best templates by best makers, Coming Up next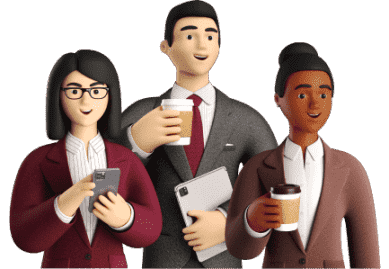 Be a Maker and start earning now
Have a knack for building useful or aesthetic Notion templates? Prototion is the perfect platform for generating revenue by selling templates. Learn more
Be a maker