Monthly Planner
By
Plan Your Month The Best Way Possible In A Ready-To-Use Notion Template
Rating:
Know more details about this template's features? Click here
🎁 Save more with Template Bundles
Template Description
Monthly Planner
Plan Your Month The Best Way Possible In A Ready-To-Use Notion Template
This template helps you to bring structure into your life by reminding you of important tasks that you write in the calendar. You can track tasks, manage your monthly goals and track your daily habits.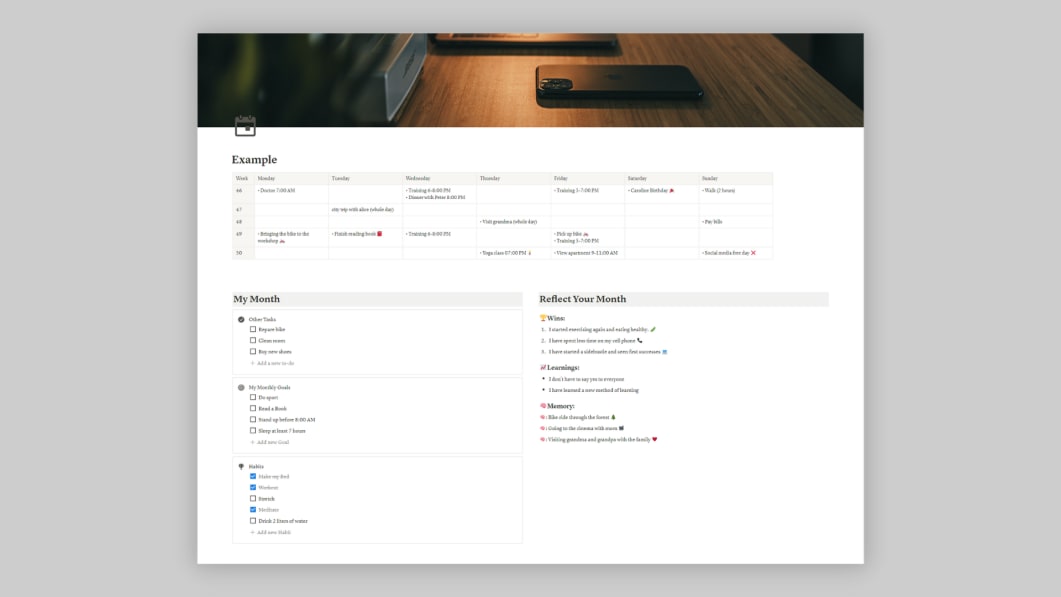 What do I get?
A ready template to plan your month
Track Your Monthly Tasks
Track Your Monthly Goals
Track Your Daily Tasks
Reflect Your Month
Why so simple?
You might be wondering why the template is so simple. I'll give you an answer:
Why should it be complicated, when it can be simple? Because of the simplicity, you have fewer errors in the system, you can work faster and you are not confused by unnecessary features.
FAQs
Can I duplicate this template to share with my friends?
No, this is a personal license for individual use
Is there a money-back guarantee?
Yes, if you tell me the reasons why the product does not meet your expectations
Does the template work in the free version?
Yes, the template works in the personal plan
How does the purchase work?
Once you've made your purchase, you'll be redirected to the template. Click "Duplicate" on the top right corner to duplicate it to your Notion workspace.
Still have questions?
send me your opinion or your question to severin.schuetz@bluewin.ch
cheers ✌🏼
Severin