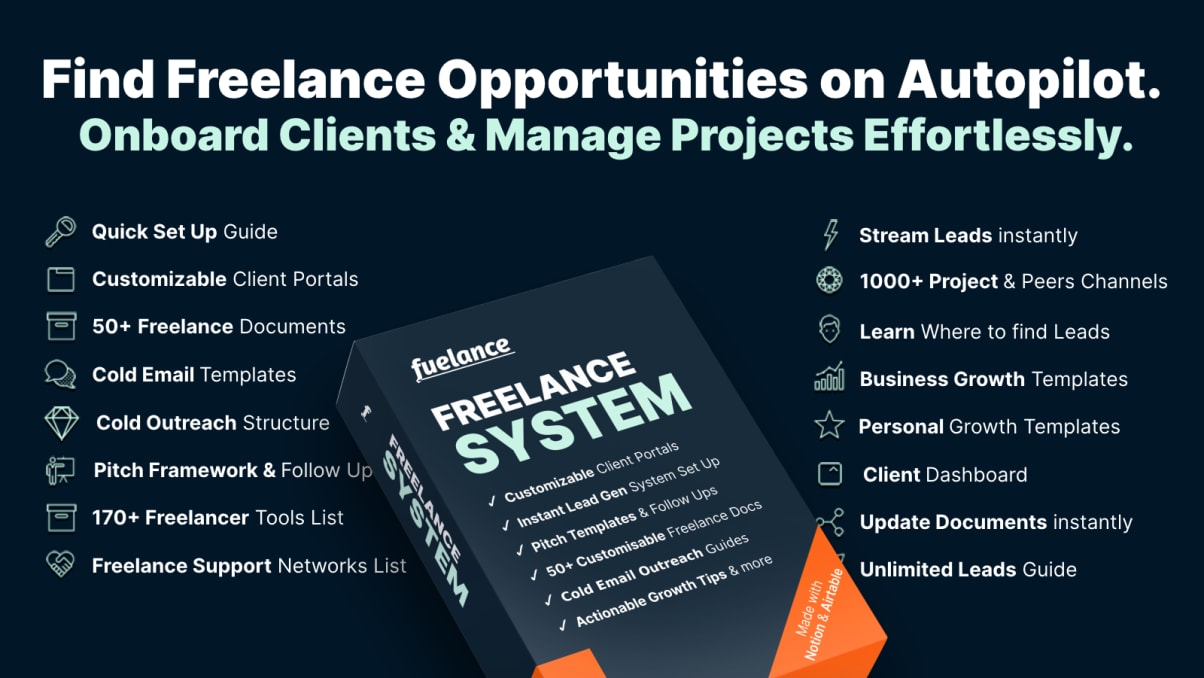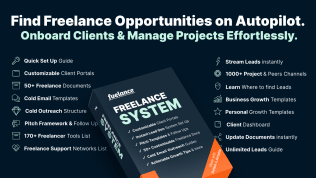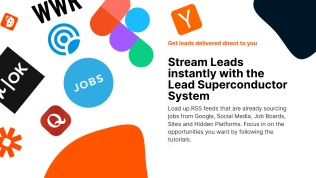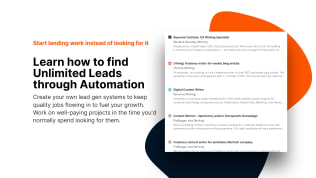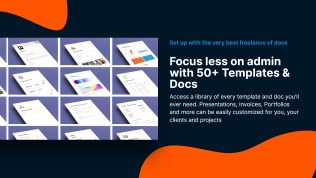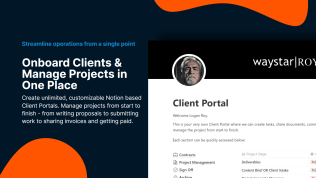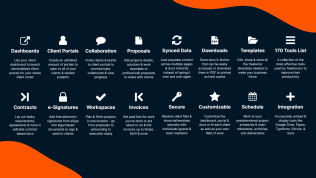 Fuelance Freelance System
By
Find Freelance Leads on Autopilot. Onboard Clients & Manage Projects Effortlessly.
Rating:
Know more details about this template's features? Click here
🎁 Save more with Template Bundles
Template Description
Fuelance helps you to find repeatable clients in record time and collaborate and communicate with them in customizable workspaces in real time.
The Dashboard and System solves the three main pain points that virtually every freelancer experiences:
a) finding clients
b) managing projects
c) spending way too much time on admin rather than creating
d) Beating the feast and famine cycle
Fuelance addressees these issues and more in the 6 sections below:

1. Learn how to create their own lead gen systems to keep quality jobs flowing in to fuel growth
2. Stream leads instantly with downloadable RSS feed files that are already sourcing jobs and opportunitiesfrom Google, Social Media, Job Boards, Sites and Hidden Platforms.
3. Create unlimited, customizable Notion based Client Portals to manage projects from start to finish
4. Access a library of 50+ Templates & Docs to run their freelance business
5. Start and grow their freelance business with step by step guides to scale
6. Cold email and outreach guides and templates to help land clients everyday of the year.
Why did I created this template?
Before I created systems and resources like this I was a freelancer myself for many, many years. I began selling on Fiverr, then moved up to bigger marketplaces. Changing algorithms led me to then do it independently where I was constantly in a feast or famine work cycle.
After much research into how to end the dry spells, Fuelance came to be. In fact I wish I could go back and give my younger self Fuelance. But I can't, so I'm giving it to you.
How to use the template
Simply duplicate the pack into your own Notion dashboard and follow the instructions in the guides.

What are the benefits of the template?
Fuelance is the veritable Swiss Army Knife to build profitable freelance businesses with.
This comprehensive Notion Based Dashboard & System is the full cycle freelancing solution that gets you set up with automated lead generation systems, customizable client platforms, 50+documents/templates, cold outreach guides and more.