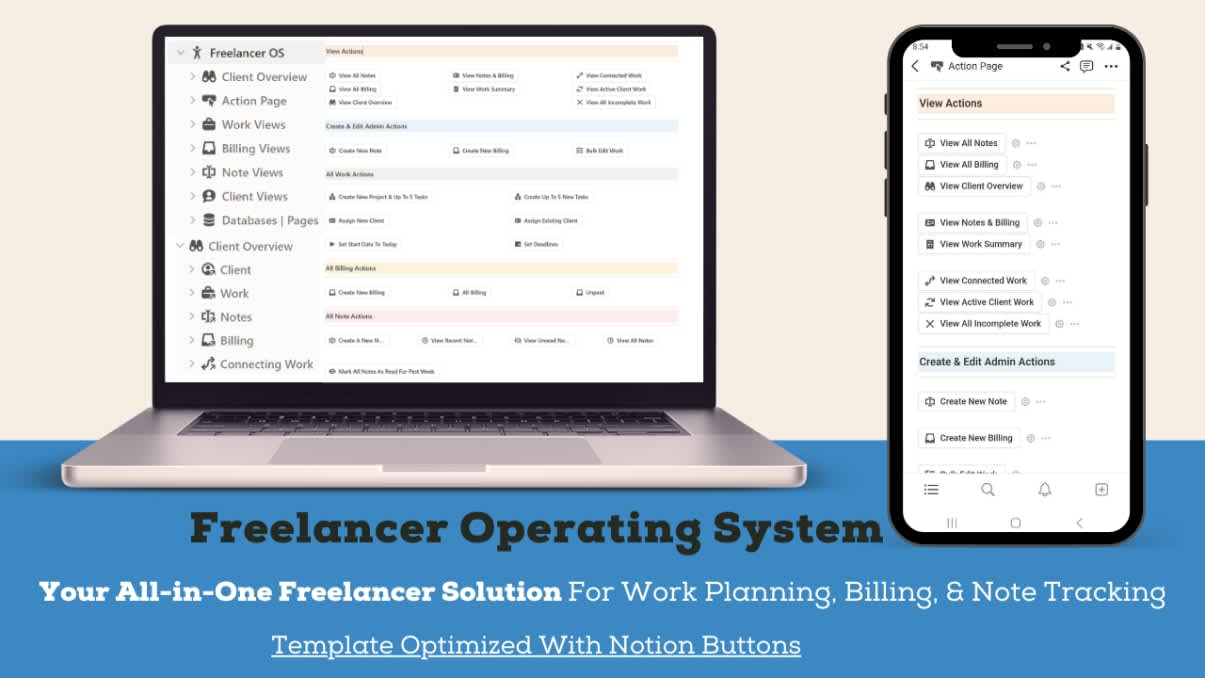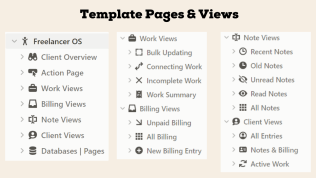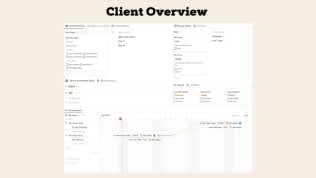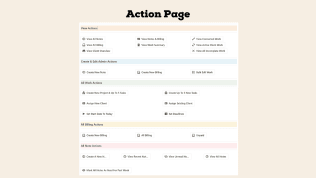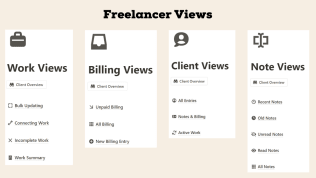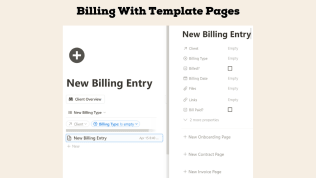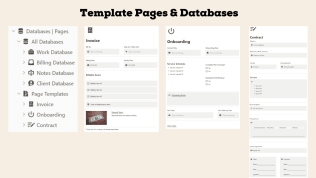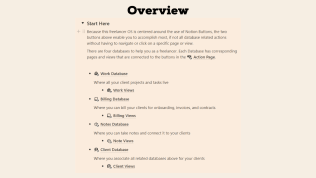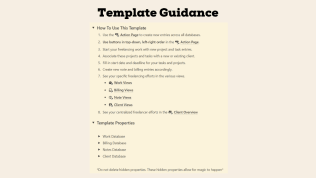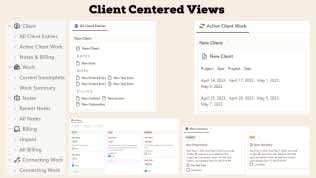 Freelancer Operating System
By
From work planning to notes & billing, this freelancer OS helps you manage, organize, and navigate your freelancer work!
Rating:
Know more details about this template's features? Click here
🎁 Save more with Template Bundles
Template Description
Freelancer Operating System
From work planning to notes and billing, this freelancer template offers a cost-effective solution for managing, organizing, and navigating your freelancer work.
This freelancer OS is centered around the use of Notion Buttons. The 25 buttons located in the Action Page allow you to accomplish most, if not all database related actions without having to navigate or click on a specific page or view.
There are four databases to help you as a freelancer. Each Database has corresponding pages and views that are connected to the buttons in the Action Page.Please view all product images to understand how this Notion template works!
Watch A 15 Second Template Overview HERE
📌 How To Use This Template
1. Use the Action Page to create new entries across all databases.
2. Use buttons in top-down, left-right order in the Action Page.
3. Start your freelancing work with new project and task entries.
4. Associate these projects and tasks with a new or existing client.
5. Fill in start date and deadline for your tasks and projects.
6. Create new note and billing entries accordingly.
7. See your specific freelancing efforts in the various views.
8. See your centralized freelancer efforts in the client overview.
📌 Template Features
✔ 1 Template Overview
✔ 1 Client Overview
✔ 3 Template Pages
✔ 4 Freelancer Pages
✔ 4 Databases
✔ 20+ Linked Database Views
✔ 25 Buttons
📋 Notion Template Pages
✅ Template Overview Page
✅ Client Overview Page
✅ Action Page
✅ Work Specific Views
✅ Billing Specific Views
✅ Note Specific Views
✅ Client Specific Views
💼 Work Views - Where all your client projects and tasks live
🧾 Billing Views - Where you can bill your clients for onboarding, invoices, and contracts
📝 Notes Views - Where you can take notes and connect it to your clients
👥 Client Views - Where you associate all related databases above for your clients