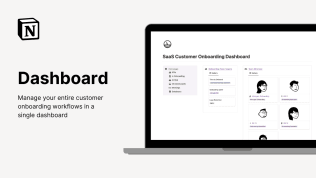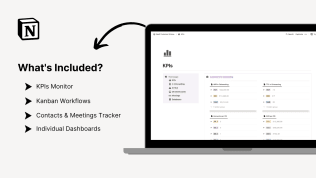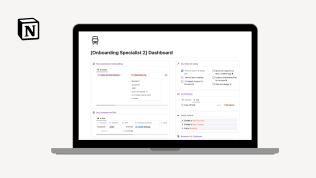 Customer Onboarding Dashboard (SaaS)
By
Streamline your onboarding workflows and free up your team's time to be more proactive with customers.
Rating:
Know more details about this template's features? Click here
🎁 Save more with Template Bundles
Template Description
Why did I create this template?
Do you have a growing customer base and are starting to lose track of all the customers you need to onboard? Are you and/or your team struggling to keep track of all your customer info and tasks? Is your customer information split between spreadsheets, emails and some note taking app? Do you lack visibility into key success metrics for this critical phase of the customer journey?
Then look no further as I have the solution for you!
What's inside the template?
Customer Accounts, Contacts & Meetings and Team Members databases
KPIs broken down per segment including ARR, TTL and churn rates
Kanban with stages to visualise and manage your current customers in Onboarding
Onboarding Specialist Individual Dashboards to help your team manage their day to day
Customer Meetings Tracker
Resources & Playbooks section for you to populate with your own resources
How to use the template?
I have included a full step-by-step guide on how to input your own data and get started with this template.
What are the benefits of the template?
With the SaaS Customer Onboarding Dashboard you'll be able to track key success metrics including time to launch (TTL), Annual Recurring Revenue (ARR) launched and churn rate.
Whether you are a founder, a Customer Success Leader or a Customer Success Manager, this dashboard can help you streamline your onboarding workflows and free up your time to be more proactive with your customers and make informed decisions based on actual data.